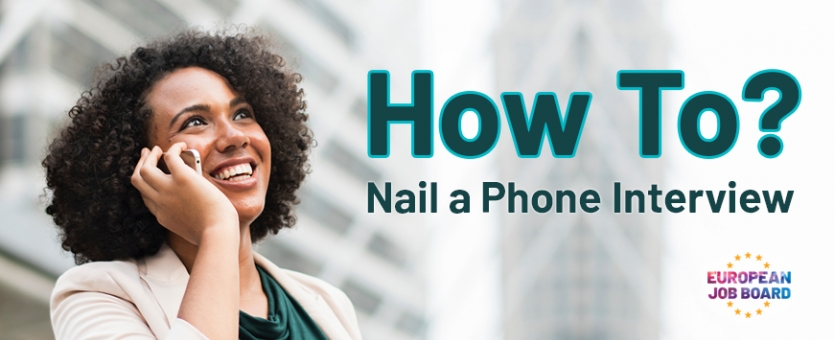 How To Nail A Phone Interview
Oftentimes, the phone interview is the precursor to the in-person interview.Most companies initiate the interview process with a phone call to discuss the job opportunity, screen the candidate at an initial level, examine if he or she is a good fit, and to gauge the candidate's interest in the position. Phone interviews are often used to narrow the pool of applicants for in-person interviews.
It is one of the best ways to minimize the expenses involved in interviewing out-of-town candidates. Also, if you are an applicant from some remote or far away area, a phone interview may be the only one you have to crack.
How to Ace a Phone Interview
Here are some of the tips that can help you can ace the interview and make it to the next round.

1) Research about the Company.
Once you have submitted your resume, take time and do your homework about the company, the hiring manager, etc. Look out for every detail possible, from what the company does, how they do it and why, right down to dress code if you can. Leverage professional sites like LinkedIn, Glassdoor to get a through and through the view of the company. Explore recent publications, financial results, social media outlets or email newsletters if you can. You can also get in touch with someone in your network who worked at the company or who knows someone who worked at the company. .
2)Evaluate Your Documents
One of the biggest advantages with a telephone interview is if you have all the documents you need right in front of you. Refresh yourself with all the details you had mentioned in your resume. Focus on the experience that your hiring company is interested in. Treat the entire process like a face to face interview. One of the disadvantages of a telephonic interview is you are unable to use your body language, a firm handshake or eye contact. So, you need to portray all this through your professional voice.
Some Proper Phone Interview Etiquettes
Answer the phone yourself with your name. This will help the interviewer understand that they have reached the right person.

Listen carefully to the evaluator. Jot down the points you need to say on a notepad and mention it when it's your turn to talk.

Take your time to collect your thoughts before giving a response. However, do not leave much dead air.

Do smile. This projects a positive image to the listener and will change the tone of your voice.

3)Ask Questions

Asking questions is the key to interview. Never underestimate the importance of listening to the questions and responding in a confident way. When you are on the phone, you need to sound professional as well as enthusiastic. Don't talk too quickly. Stay focused on the questions and your responses and try to put down your points politely.

4)Follow-Up After the Interview

Make sure to say thank you to the interviewer when the call is about to end. Shoot a thank you email immediately, thanking the interviewer and recapping your interest in the profession.

5)Bonus Tip:Conduct a mock interview and record it.

It is always good to conduct a mock interview and record it. This will help you see how you sound over the phone. Once you hear the recording you will find the glitches like "ums" and "okays". Try to reduce them and improve.

Read more:- 5 Job Interview Mistakes that Has Cost Most of Us