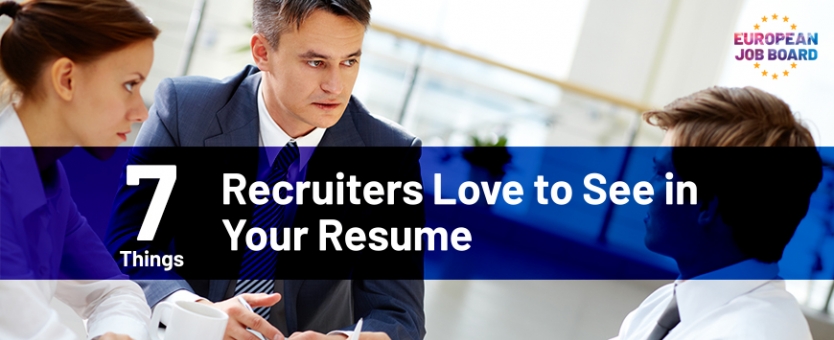 7 Things Recruiters Love to See in Your Resume
Did you know that recruiters spend less than 10 seconds, on an average, absorbing a resume? And in this process of scanning your CV, it is vital that you make a good first impression. Here are some of the absolutely interesting pointers that you must pay attention to while making a good resume.
Powerful Ways to improve your Resume
Here are some of the key tips on what makes a CV stand out and make recruiters love your resume.

A Compelling Opening Summary
Invest time in framing an interesting opening summary that can grab recruiters' attention. Ideally, sum up your qualifications and value in a couple of sentences. Do not confuse an opening summary with an objective statement. An opening summary offers a stage for a solid read whereas the latter can bore the recruiters and may rebuff your resume. For instance, it is always a great idea to tell the recruiters that you are a "veteran marketing professional with an eye for the outrageous" than plainly writing "seeking a marketing position where I can utilize my existing skills."

Achievements & Key Skills
A resume must clearly speak about what you have achieved in your professional career. May it be awards, or certificates related to your line of work or personal achievements. It is always good to show on your CV that you achieve goals outside of work.
Citing your key skills is elemental. However, a decent resume should include a list of your competencies and explain how you gained that particular skill in brief.
Another crucial element is to shun CV clichés (self-starter, team player). You need to illustrate where you have made a difference. Simply stating that you are 'a team player' has become obsolete. Give a relevant example of when and how you've proved your proficiency.

Relevant Experience
Focus on emphasizing your relevant knowledge. Highlight the responsibilities that are most likely to come up in the role that you are applying for. For instance, if you are applying for the post of a Digital Marketing Manager at an SEO Company, you need to mention the key skill as enhancing brand awareness, developing, implementing and managing marketing campaigns, and so on.
Recruiters look for career progression and how you have developed yourself for managing increasing levels of responsibility. See that your resume demonstrates this clearly.

Job Descriptions
It is important to learn how to sell yourself on paper. It is understandable that not everyone is a master at it. Most people put 3 brief lines under the job title. But it is recommended that you mention at least 8 lines, in bullet points to make it clear about your job description. Write good descriptions without any spelling mistakes.

Let the Figures Speak
Who wouldn't love to hear about your accomplishments when it is backed up with actual data or concrete stats? Numbers have the capability to freeze eyeballs. They can be spotted easily in a crowded piece of paper. So, use figures on your resume whenever possible For instance, "increased sales by 30%" or "10% cost reduction" "Met annual sales goals of $100,000" - Sounds impressive, isn't it?

Contact Details
Although this pointer may seem obvious, you will be surprised to know that that number of candidates who enter obsolete details is staggering. Potential employers want to see your telephone number and an email address. Ensure that you enter them and double check for errors.

Correct spelling and grammar
Last but not the least; check your document for any sort of spelling or grammatical errors. Failure to do so will result in an interested recruiter to instantly move on. Take the help of a friend or colleague to review it on your behalf.

Bonus:
If you are looking for a job abroad or want to an international career, tailor your CV for the country and position you're applying to.
Avoid fancy formatting.
Imagine! 1 vacancy and 50 CVs to read! Recruiters are staring at these missives all day long. To stand out bring personality into the resume. Talk about your passion – for instance, maybe your love for Nutella (if you can do so elegantly). I think it's important to keep the work experience details as professional as possible, but there are ways to have fun with it. Most recruiters love an Easter egg buried in a resume … figuratively speaking.
Use colour and lovely typo. When I say these, I do not mean to make your resume a paint book with a sundry of fonts. Keep up the professional essence of the CV.
Avoid one pager CV. How is it possible to sum up your life's work on one page? At the same time avoid running your resume into a ridiculous number of pages.
Your resume could be your ticket to an amazing job opportunity. See that you do it just right.